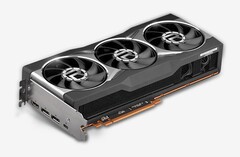 Three video cards that were unveiled by Sapphire Tech last week are now up for pre-order on Multitronic's website. The Finnish retailer has the Radeon RX 6800 listed for roughly US$870, while the two RX 6800 XT variants have price tags of US$990 and US$1,020. Sadly, there is no delivery date available yet.
Sapphire Tech has quite a few video cards based on the Radeon RX 6800 and Radeon RX 6800 XT, with most of them going above and beyond the specs and design of the reference models introduced by AMD. Now, three such video cards can be pre-ordered from Finnish retailer Multitronic, all of them being overclocked variants with custom cooling solutions.
The three models listed by the aforementioned retailer and their prices are the following:
Sapphire Radeon RX 6800 XT Nitro+ OC SE, 863.9 Euros (roughly US$1,020)
Sapphire Radeon RX 6800 XT Nitro+ OC Gaming, 838.90 Euros (around US$990)
Sapphire Radeon RX 6800 Nitro+ Gaming OC, 732.90 Euros (approximately US$870)
Before turning red because these prices seem outrageous, our non-EU readers should keep in mind that these are preliminary prices and there is also a rather large VAT included (Finland has a standard VAT rate of 24%, which applies to computer parts as well). Unfortunately, there is no shipment date mentioned in the listings, but it will probably take at least one or two weeks after the launch scheduled by AMD and some of its partners to take place on December 8.
November 16 update: Multitronic has removed the listings mentioned in this article and there are no longer any RX 6800 or RX 6800 XT video cards present on the website.
Codrut Nistor, 2020-11-15 (Update: 2020-11-16)