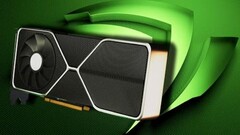 Although there is no image of this upcoming video card available yet, the latest rumors confirm that the GeForce RTX 3060 Ti will feature the GA104-200 processor with 4,864 CUDA cores, 8 GB of GDDR6 memory running at 14 Gbps, and a 256-bit bus. The performance should match the existing RTX 2080 Ti and the card is rumored to arrive after the RTX 3070.
Since many gamers are not gaming at 4K or 8K yet and often have to stay within a certain budget, they will surely skip buying the high-end RTX 3080 and RTX 3090 video cards and focus on the less potent — and cheaper — RTX 3070 and RTX 3060. For now, there is no rumor regarding the launch of the non-Ti 3060, but insiders familiar to the matter who spoke to VideoCardz confirmed that the RTX 3060 Ti is scheduled to arrive next month, soon after the RTX 3070.
The list of technical specs — yet to be confirmed by NVIDIA, of course — contains a GA104-200 GPU with 4,864 CUDA cores, 8 GB of GDDR6 memory over a 256-bit bus clocked at 14 Gbps, which leads to a 448 GB/s bandwidth. The TDP of the reference design is expected to be 180 W, noticeably lower than the rumored 220 W of the RTX 3070. 
In terms of performance, the RTX 3060 Ti could often match the RTX 2080 Ti and even beat the non-Ti 2080 clock for clock. Fortunately, it should also cost somewhere around US$400, since the RTX 3070 is rumored to hit the market at US$499.
These being said, we should get ready for next month's release of the RTX 3070. If everything goes as rumored/planned, the launch should take place on October 15. Once that happens, we should know more about the RTX 3060 Ti as well.
Codrut Nistor, 2020-09-26 (Update: 2020-09-26)