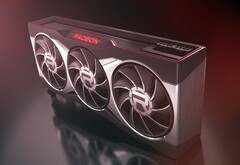 Shortly after the RX 6800 XT surfaced in some leaked benchmarks, the upcoming AMD Radeon RX 6800 does the same. According to a Basemark listing (that seems to have been removed in the meantime), the RX 6800 will feature no less than 16 GB of memory and will be much faster than the NVIDIA GeForce RTX 3070.
Basemark might not be an industry-standard benchmark yet, but it can prove helpful when talking about early leaks that cannot be found in the mainstream benchmarks for graphics cards. Today, we will talk about the entry that is listed as "Radeon RX 6900 Series" but turns out to be the upcoming Radeon RX 6800.
According to VideoCardz, the Basemark benchmark reports the entire Navi 21 GPU family as the Radeon 6900 Series for now. The details of the aforementioned entry include the 27.20.14501.1206 driver with Big Navi support, the AMD Ryzen 9 3900X processor installed on an MSI MEG X570 GODLIKE motherboard (one of the four mainboards confirmed to support Smart Access Memory at launch), and the AMD Radeon RX 6800 with 16 GB of video memory with a speed of just 1066 MHz (probably a reporting error).
The benchmark results achieved with the help of the setup mentioned above places the AMD Radeon RX 6800 ahead of the NVIDIA GeForce RTX 2080 Ti when tested using DirectX 12, but behind it when using the Vulkan 1 API. However, in both cases, the AMD Radeon RX 6800 is faster than the NVIDIA GeForce RTX 3070. 
AMD has scheduled the launch of the RX 6800 XT and RX 6800 on November 18. The price tags for the reference designs read US$649 and US$579, with higher-priced custom variants to come soon as well. The reference design of the high-end RX 6900 XT will have a price of US$999 and is expected to arrive in early December.
Codrut Nistor, 2020-11-14 (Update: 2020-11-14)