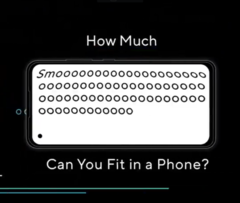 ASUS has confirmed that it has adopted a conventional punch-hole display for at least one of its upcoming ZenFone 8 handsets. It seems that ASUS will launch at least the ZenFone 8 and ZenFone 8 Mini on May 12, but a ZenFone 8 Flip may be up for release, too.
ASUS has revealed a key aspect of the ZenFone 8 series, its successor to last year's ZenFone 7 and ZenFone 7 Pro. The company will not unveil the ZenFone 8 series until May 12, but it has already confirmed that at least one ZenFone 8 device will have a punch-hole display, a departure from recent ZenFone designs.
ASUS has equipped flagship ZenFone smartphones from the ZenFone 6 onwards with a motorised flip-up camera module, negating the need for dedicated front-facing cameras. On the one hand, this has allowed the ZenFone 6 and ZenFone 7 series to have uninterrupted displays with small bezels. On the other hand, it has also provided the two generations of smartphones with excellent front-facing cameras.
It is unclear if ASUS plans to use a punch-hole camera in the rumoured ZenFone 8 Mini. Leaks from earlier this year would suggest otherwise, though. The presumed ZenFone 8 Mini (ZS590KS) does not have a front-facing camera, but the ZS672KS and ZS673KS do. The model numbers of these would suggest that they have 6.7-inch displays, so they may be the successors to the ZenFone 7 and ZenFone 7 Pro.
If that is the case, then we may see ASUS release the ZenFone 8 and ZenFone 8 Pro (ZS672KS/ZS673KW), the ZenFone 8 Mini (ZS590KS) and another device codenamed 'VODKA'. Incidentally, this device also carries the model number ZS675KW. XDA Developers has found references to a ZenFone 8 Flip in the ASUS PixelMaster Camera app, so there is a chance that 'VODKA' is the codename for this device.
Alex Alderson, 2021-04-27 (Update: 2021-04-27)